Partnering With The Family Office Club
We offer partnership opportunities to a select few firms who would like to introduce their offering to our large network of investment professionals and family offices.  If you are looking to establish your presence in the family office space we can provide you with an excellent venue for meeting potential clients, marketing your firm, and becoming a "household name" in this industry.
For details on our different opportunities, pricing, packages, and benefits of partnering with the Family Office Club please contact Ellie Hojabri at Ellie@FamilyOffices.com | (305) 428-3777 or by filling out the form below.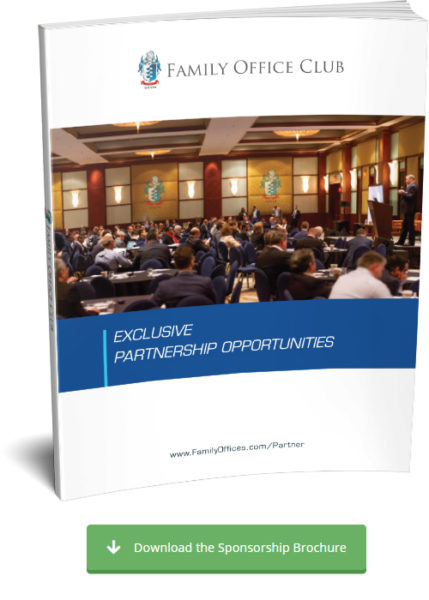 To give you a better idea of the value we offer, here is a breakdown of what every partner receives:
Complimentary admission for 1 attendee; additional admission tickets can be purchased at the discounted rate.

Company logo on the official event website hyperlinked to the company site

Company logo and 100-word description listed in event workbook

Company name and/ or logo included in event marketing communications (i.e., email blasts, press releases) to the 100,000+ members of Family Office Club

Company logo displayed on our conference brochure

A public "thank you" for your sponsorship, delivered by the conference chairman at the live event
Partnership Opportunities
A table-top display showcasing your services. Tables are on display for the entire length of the conference and are situated in an area with the highest foot traffic, usually near the food and cocktail reception. Exhibit table sponsors are constantly approached during breakfast, breaks, lunch, cocktail hour and during the actual conference itself. This is a great way to network and promotes your firm while building long-lasting relationships with your target audience. It really is a step up from just attending to initiate conversations with conference participants.
Panel Discussion Role
(Several Panel Topics Available)
A 45-minute panel discussion with 3-5 family office executives. Panelists interact and provide differing viewpoints on the topic at hand. Panels promote a wide-range of perspectives leading to engaging and insightful discussions.
They are a favorite among the audience as they enjoy hearing different ideas and reasonings from a group of industry experts. Panel questions are sent out prior to the event and we welcome suggestions for specific areas you want to cover. We are also open to any topic suggestions for our events, as long as they are provided within a reasonable amount of time prior to the conference date.
Standalone Speaking Role (Topic of Choice)
A 15-minute educational presentation showcasing your expertise and knowledge within your industry. You will have the complete undivided attention of the entire room, comprised of family office executives, HNW individuals, institutional investors, and a variety of family office industry participants. Speakers in the past have used props, posters and media presentations to showcase their offerings to the audience.
One-Page Workbook Inserts
A one-page advertisement or educational article included in the printed workbooks, distributed to all the conference attendees. This is a great way to gain exposure as the attendees take their workbooks home to refer to notes taken throughout the day. Workbooks sponsors will also be featured on our websites, brochures and marketing materials with a link directed to your company's website.
Private Receptions – Hosted Lunch & Dinner Receptions
10-15 family offices strategically hand-selected and invited for your special event. Either held at a prestigious venue or in a private setting during a Family Office Club event, our team will handle all of the planning and logistics of the event. Follow-up services, including but not limited to, strategies for follow-up, the contact information of attendees, and doing whatever we can to make the event a success.
The highest level of exposure, the Title Partnership, includes your firm as a partner with The Family Office Club for one of our world-renowned conferences. Title Partners receive a 15-minute educational standalone presentation OR panel discussion to kick off the event, an exhibit table to showcase your services to attendees, VIP access to attend all of our events within a year, media exposure through our marketing and promotional efforts and access to 100k affluent members in our network and the highest level of our services (one full year of structured guidance for your maximum exposure to Family Offices & HNW Individuals). This is the most prestigious class of sponsorship offered by The Family Office Club to date.
For other options and custom packages please contact Ellie Hojabri at Ellie@FamilyOffices.com or by phone at (305) 428-3777
Our investor associations, websites, networks and other channels give us marketing reach to nearly 1 million professionals around the world. Our events are a great opportunity for us to bring together these investors, family offices, industry players, fund managers, and other executives. As a partner, you will gain access to our network and be able to build valuable relationships with potential clients, business partners, and other connections that will help you grow your business. Would you like to see more opportunities to sponsor our conferences? Call our team at (305) 428-3777.