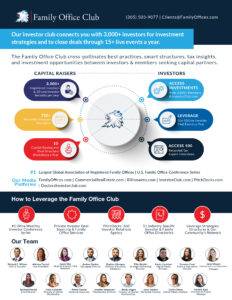 Questions?
We interact with over 40,000 professionals year, over 25,000 professionals have attended our 200+ conferences and workshops hosted over the past 16 years, and every day our almost 18-person team is answering questions regarding the family office industry, capital raising/investor relations + the Family Office Club.  Instead of writing out 100 FAQs here, we are going to just list the top 7 questions we get and our answers so that even if you have not thought of these questions yet they may be helpful to you in getting to know us and our platform.
If you just want to get help right now you can chat with us through this website or call us during Eastern Time hours at (305) 503-9077, email us at Clients@FamilyOffices.com, or schedule a call with our team using this scheduling link Click Here
Question #1: 
How does the Family Office Club work? 
We are a community of investors and investor relations professionals who work with family office clients.  Through providing more thought leadership than all of our competitors combined via our Family Office Podcast, Family Office Monthly Newsletter, Blog, Youtube channel, email updates & free book, bestselling books on Amazon here and here, and live events we have a model of giving away knowledge and best practices as often as possible to build new relationships in the industry.
We work with both ultra-wealthy families and single-family offices directly as well as those who are raising capital.  On the capital raising/investor relations side of things, we offer Charter Membership which includes our online portal, investor relations tools, over 800+ recorded investor interviews, and 15+ live summits and masterminds a year to attend in person.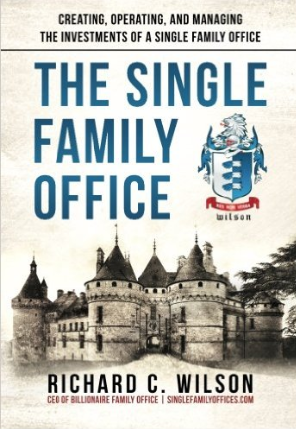 Question #2: 
How do you work directly with wealthy families and family offices? 
We work directly with ultra-wealthy families in a number of ways.  Most often families come to us to start their family office or formalize it.  They may need help upgrading their wealth advisor, designing their direct investment program, their deal origination strategies, or putting trust and estate planning in place.  Some other times 2nd gen family members about to take over the family business or assets come to us to get trained, groomed, and prepared for that role.  Often families want access to off-market direct investments into profitable multi-location medical and dental practice platforms we work with, cash-flowing real estate assets, or $100M+ and $1B in assets under management real estate platforms that have due diligence already completed on them.  We have helped set up and formalize well over 200 family offices to date, and we have grown our brand over time by adding value first to each client we engage with whether it is a capital raiser or investor.  Please reach out directly if you would like to learn more or need help as an investor navigating our community, and we would be happy to jump on a short call or share details via email on how to do so.
Question #3: 
Where should I get started if I'm just learning about the Family Office Club and this whole industry? 
We recommend doing two things to get started, first schedule a call with our team by using this link Click Here, and second please download a free copy of our book here.
Question #4: 
Who can I talk to there about something very specific so I make sure and reach out to the right person? 
To help direct you to the right individual on our team please see the breakdown of contacts on our team for different types of inquiries:
Question #5: 
Can you help me raise capital or get investor meetings? 
There are thousands of placement agents, third-party marketers, and brokers who make their living raising capital for investment and asset management companies, that is not our business model. Our goal is to help the firm principal, capital raiser, or placement agent and be a catalyst for them to develop more investor relationships and raise more capital by providing value where brokers and placement agents do not.
We add value through our thought leadership, insights, best practices, capital raising models to implement, investor directories of contact details, fast-paced investor relations masterminds, 4 live investor summits per quarter per year, and over 800+ recorded investor interviews now available to stream within the Charter Member portal.  Our members get their investment marketing materials reviewed quarterly, free lifetime access to our CRM, a public listing on our website, capital raising coaching at our workshops, and more. We can provide a powerful suite of investor relations tools and resources that supplement whatever capital-raising processes you currently have in place, to get started please apply here for membership.
Question #6: 
How do I attend your investor events? 
You may attend as a charter member of the Family Office Club per event but you can learn more by scheduling a call with our team click here or by seeing our member benefits page by clicking here.
Question #7:
What is a Family Office? 
A family office is a holistic often full balance sheet approach to managing and overseeing the wealth and financial affairs of ultra-wealthy families.  There are three basic types of family offices, virtual family offices, single family offices, and multi-family offices.  A virtual family office, most often used by those with $20M-$500M in net worth is a very leanly operated small team of typically 1-4 professionals who only keep investment activities in-house that they believe they are world-class at or are in the field where they created their wealth or expect to be able to create additional value most.  A single family office, most often used by those with $300M-$1B+ is similar to a virtual family office but typically will employ 5-15 professionals and sometimes more with some having 100+ person teams, every part of the single family office is built to manage the wealth of a single individual or family and it can include overseeing insurance, philanthropy, multi-generational planning, regulatory concerns, taxation, legal structures, due diligence on investments, deal flow, and anything else that may significantly impact the balance sheet of the individual or family.
Typically every single family office has some tasks done in-house while also outsourcing some things which are not productive to do in-house such as software programming for custom reporting, or forensic accounting due diligence.  Another way to think about it is that a virtual family office is a single family office that relies heavily upon outsourcing almost everything while a single family office typically keeps more things in-house and has a more balanced approach.  The final and third type of family office typically referred to is a multi-family office, typically used as the core family office solution for those with $10M-$50M net worth this is most easily thought about as a more holistic, more long-term minded wealth management firm which is typically very strong on taxation and multi-generational planning.  Some multi-family offices are far more holistic and have full balance sheets than others,  but the idea is that if a firm is dedicated only to serving the ultra-wealthy they will be familiar with the challenges and typical tools and solutions they need.  I also defined what is a single-family office in a video 5 years ago in Prague which you can view here.
If your question was not addressed here please try to chat with us now if it is during Eastern Time business hours  9:00 am -5 pm EST. or reach out to our team at Clients@FamilyOffices.com and we always do our best to reply back within 1 business day. You can also reach out team by calling 3056-677-3327 or booking a call with us ( click here)